Explore exotic tropical private and botanical gardens, ancient palace gardens and spectacular scenery on top of Sigiriya. Alongside the historic and more contemporary gardens, you will explore the Cultural Triangle, the lake-side city of Kandy, take a scenic train ride and hike through the Tea Country, with the chance to delve deep into the world of Sri Lanka's deeply revered and celebrated architect Geoffrey Bawa.
All of this activity will be balanced out with our final days spent at the beach in the luxurious Tea Tree Villa, a private beach residence, where we can relax by the pool, enjoy delicious food and explore the surrounding areas including the UNESCO world heritage site, Galle Fort.
Departure/Return Location

Colombo International Airport

Included

Accommodation

Local Guide

Meals

Small Group Size

Transport

Yoga Teacher

Not Included
Tour Plan
Welcome to Sri Lanka! You will arrive at Bandaranaike International Airport and transfer to our hotel in Negombo. As all flights from Australia arrive after 9:30pm no meals or activities have been included today. If you are arriving earlier you are free to enjoy the hotel and explore the town or enjoy the beach at Negombo.
Accomodation:
Villa Hundira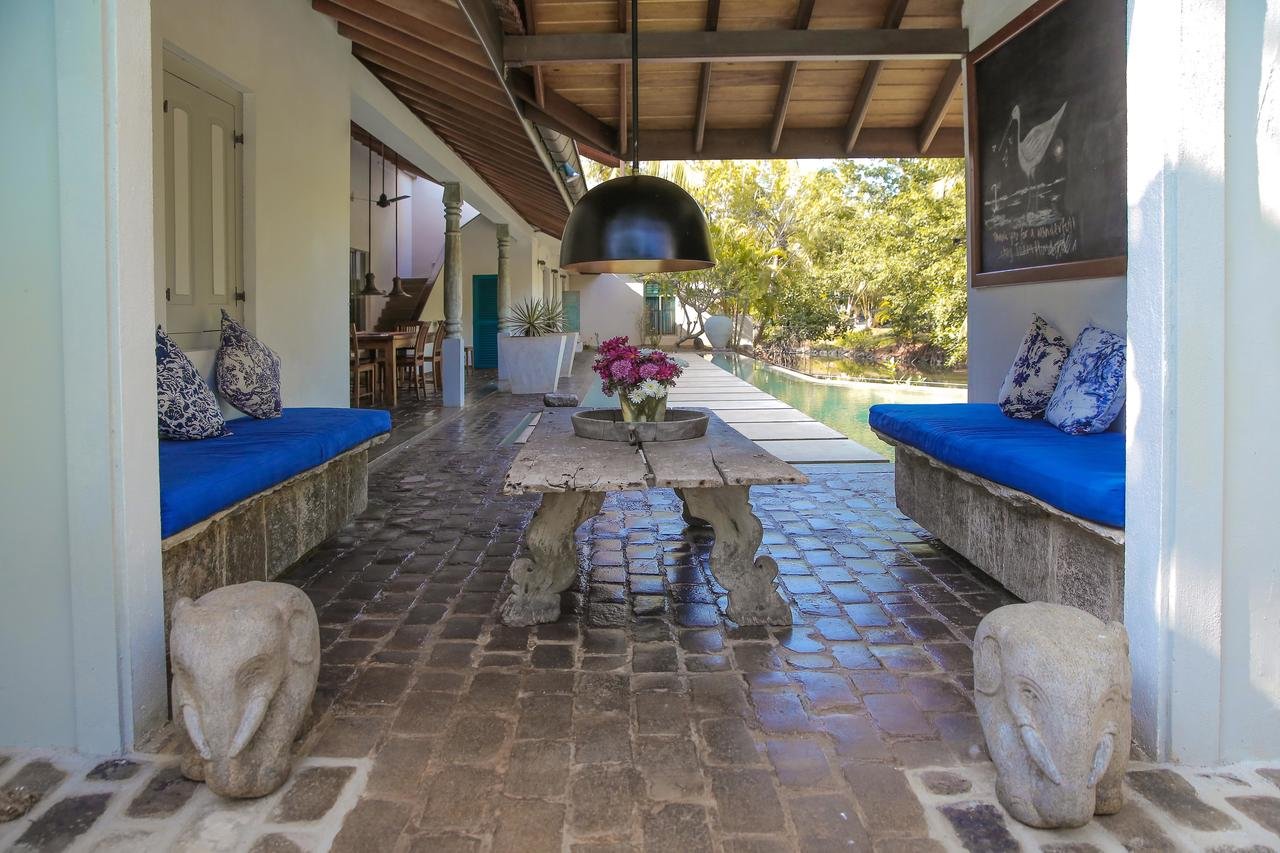 The fun begins! After a leisurely breakfast, our air-conditioned minibus and driver will collect us from the hotel and we will set off for Yapahuwa, one of the ephemeral capitals of medieval Sri Lanka. Reminiscent of Sigiriya, with a moat and multiple castle walls surrounding a rocky outcrop. The most striking feature that greets you at Yapahuwa is the 70-degree staircase. It was badly damaged during invasions, and what you see now is a reconstruction.
At top of the climb, the view is breathtaking. The plains of the dry zone scattered with rocky outcrops are visible in all its glory. After the fall of Yapahuwa, the site was turned into a hermitage for Buddhist monks with a small stupa, a beautifully preserved shrine room, cave paintings and a Buddha statue.
We will then travel on to the Ancient city of Anuradhapura, where we will spend the following two nights.
Today is a very active day. We will tour the ancient city of Anuradhapura by bicycle. The sprawling complex which contains a rich collection of archaeological and architectural wonders including enormous dagobas, ancient pools and crumbling temples which were built during Anuradhapura's thousand years of rule over Sri Lanka.
Among the ruins, you'll see the sacred old Bo Tree, a spiritual reminder of the beginnings of Buddhism in Sri Lanka and the inspiration for Anuradhapura's great buildings and the Royal Pleasure Gardens which covers 14 hectares and contains two ponds skillfully designed to fit around the huge boulders in the park. According to Sinhalese literature, gardens and bathing complexes were one of the important aspects of Sri Lankan cultural life, which provided sensual enjoyment for Royalty.
In the evening we will visit Mihintale, revered as the birthplace of Buddhism in Sri Lanka, and a sequence of beautiful shrines, stupas and caves strung out across wooded hills, with a chance to explore Kaludiya Pokuna. Amongst its serene, tranquil beautiful forest and bolder clad environs, you'll find some of the earliest examples of Sinhalese hydraulic civilization which are no longer working today.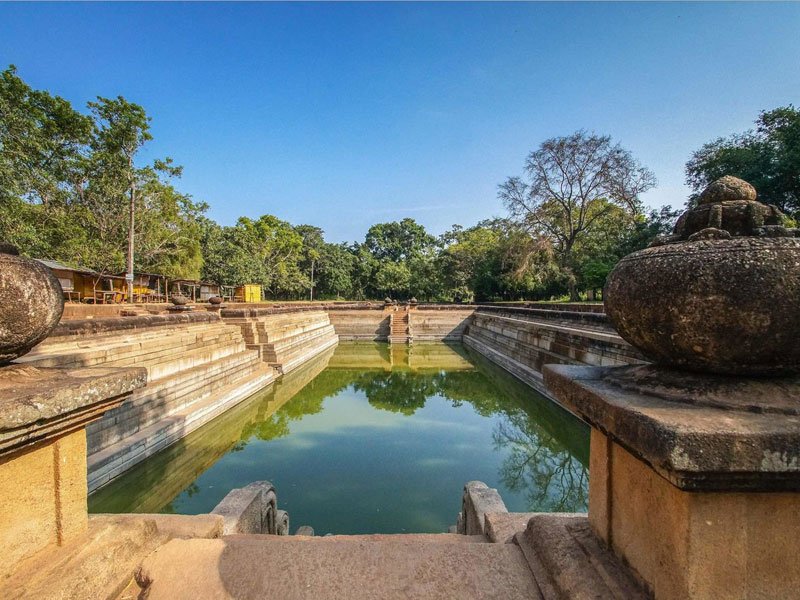 Visit the ancient capital, Polonnaruwa in the morning. Sri Lanka's splendid medieval capital was established in the 11th century, A.D. The city reached a dazzling but pitifully brief zenith in the 12th century and though ravaged by invasion in the centuries that followed, much evidence remains of the old grandeur and glory.
Within a rectangle of city walls, stand palace buildings and clusters of dozens of dagobas, temples and various other religious buildings. A highlight will be the massive stone Buddhas: 14-metre-high granite carvings of the iconic reclining Buddha which represent the zenith of Sinhalese rock carving. You'll also visit the well laid-out museum, which has scale models of many of the buildings to show how they would have existed in their time.
In the evening, before heading to Sigiriya, safari in the Minneriya National Park which is highly famed for its elephants and wildlife
We will stay for two nights in Sigiriya.
Visit to a spice garden, where smells of cinnamons, pepper, cardamom, nutmeg and mace will overwhelm the senses. Sri Lanka was famous for its high-quality spices throughout history. Being tropical with its diverse microclimates, many spices are grown, some of them endemic, which has been the cause for their lucrative spice trade throughout the ages.
After a visit to the spice garden, drive to Geoffrey Bawa's masterpiece 'Kandalama Hotel'. Amidst the lush greenery, covered by the thick and dense forest, the luxurious hotel stands as one of the best Sri Lanka resorts. It was completed in 1995, the hotel is indicative of Bawa's environmental sensitivity and contemporary/traditional balance. The striking natural features proved a design challenge that the architect addressed by minimizing the impact of construction on the site. No earth - moving machines were used, and the sizable rock formations were kept, becoming an important element in the final design. This will be our accomodation for the night!
In the afternoon, head to Sigiriya (the Lion Rock). This ruined fortress is a must visit. The natural rock column has been inhabited by humans since the 3rd Century BC, but its most famous inhabitant was King Kashyapa. He developed Sigiriya as the site we know today, with the lion fortress at the top, the painted frescoes, the symmetrical, beautiful gardens and sophisticated water management. Those who make it to the top are rewarded with astounding and peaceful views.
Accomodation:
Heritance Kandalama, Sigiriya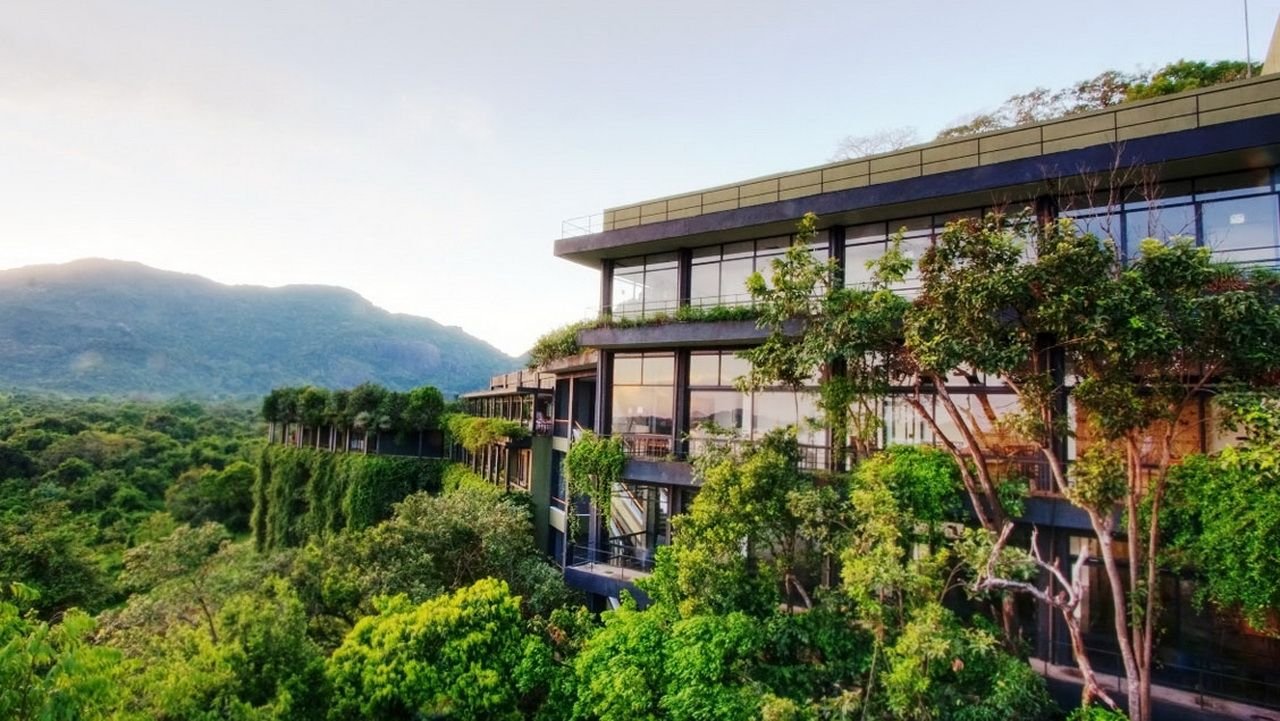 Journey to Kandy to visit the Peradeniya Royal Botanic Gardens, probably the most popular garden in the country. It covers 147 acres and is said to attract close to 2 million visitors every year. It is a glorious expanse of well-kept trees, flowers and pathways, some of which are centuries old. It is a lovely place to spend time and who knows, we may even enjoy a picnic lunch in the shade of the giant Javan fig tree.
Tonight we will be treated with traditional dancing, elaborate costumes and amazing fire walkers.
Accomodation:
OZO Kandy.
Today we visit the Temple of the Sacred Tooth which is has a wonderful buzz. It is swarming with pilgrims in white and tourists with cameras. It gets an amazing vibe with the music pounding and throngs of people lining up for the twice-daily opening of the vault that holds the tooth relic (which you don't actually get to see but a wonderful experience regardless).
We then travel to Nuwara Eliya where the air is fresh and cool. Once there, we will visit the colonial buildings and gardens that Nuwara Eliya is known for. It is the heart of the tea growing industry and full of colonial charm. Built entirely during the 19th century, its quirky architecture reflects what you'd normally expect to find in an English country village. Once known as 'Little England' by British colonialists, it's a fascinating mix of brick Victorian buildings, golf courses and tea plantations. No better place than here to enjoy a traditional English high tea.
Accomodation:
Season Villa, Nuwara Eliya.
Start the day with a lovely walk around Victoria Park soaking in the lovely colonial ambience.
Then you'll enjoy a very scenic train journey to Bandawala, past lush green hills and gushing waterfalls.
Accomodation:
Two night stay at Villa Perpetua at Bandarawela.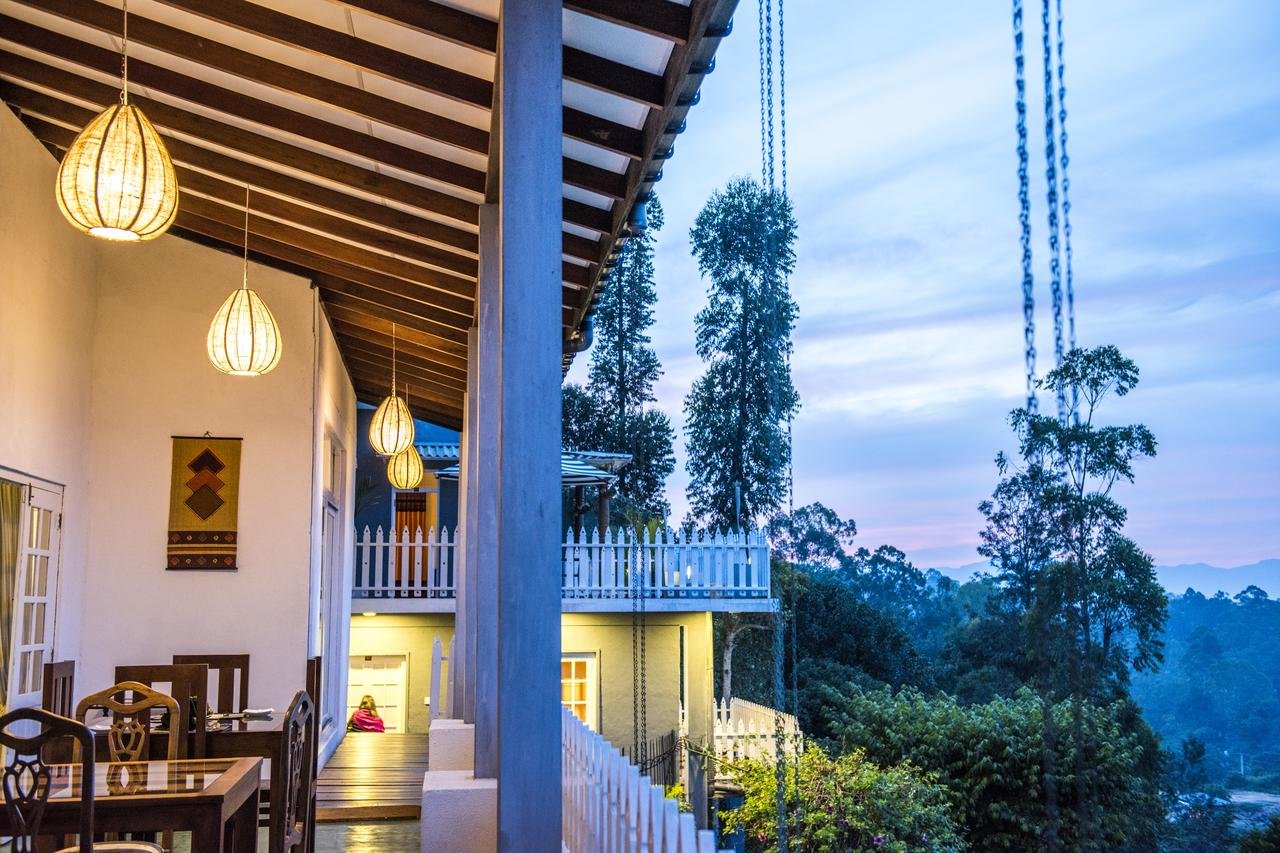 A walk in the tea plantation, today. This hike takes you through picturesque tea plantations and small Tamil villages. The views are worth the effort.
In the evening, we will be the guests of a local family. We are welcomed into their home for a cooking demonstration where we will learn some secrets of traditional Sri Lankan cuisine and enjoy the delicious meal we have prepared afterwards.
Drive to the southern beaches of Sri Lanka visiting an elephant transit home along the way.
The Elephant Transit Home is a great place to visit, which is home to about 22 young elephants, mostly babies, who have been orphaned or recovering from injuries, are being rehabilitated here before release into the wild. The elephants can be observed here only during milk feeding times which happens four times a day. It is bound to be an unforgettable experience.
Next awaited Tea Tree Villa! This is where we will hand the decisions over to you. You will be fully catered for in this luxurious private residence, where all your meals are provided for, the views are killer and the house is spaciousness enough to enjoy some private time in the midst of luxury. We have a suggested itinerary for the following two days which will include enjoyable outings at a leisurely pace. But we will totally understand if we have worn you out and you really just can't bare to leave the villa!
Accomodation:
Three night stay at Tea Tree Villa, Ahangama.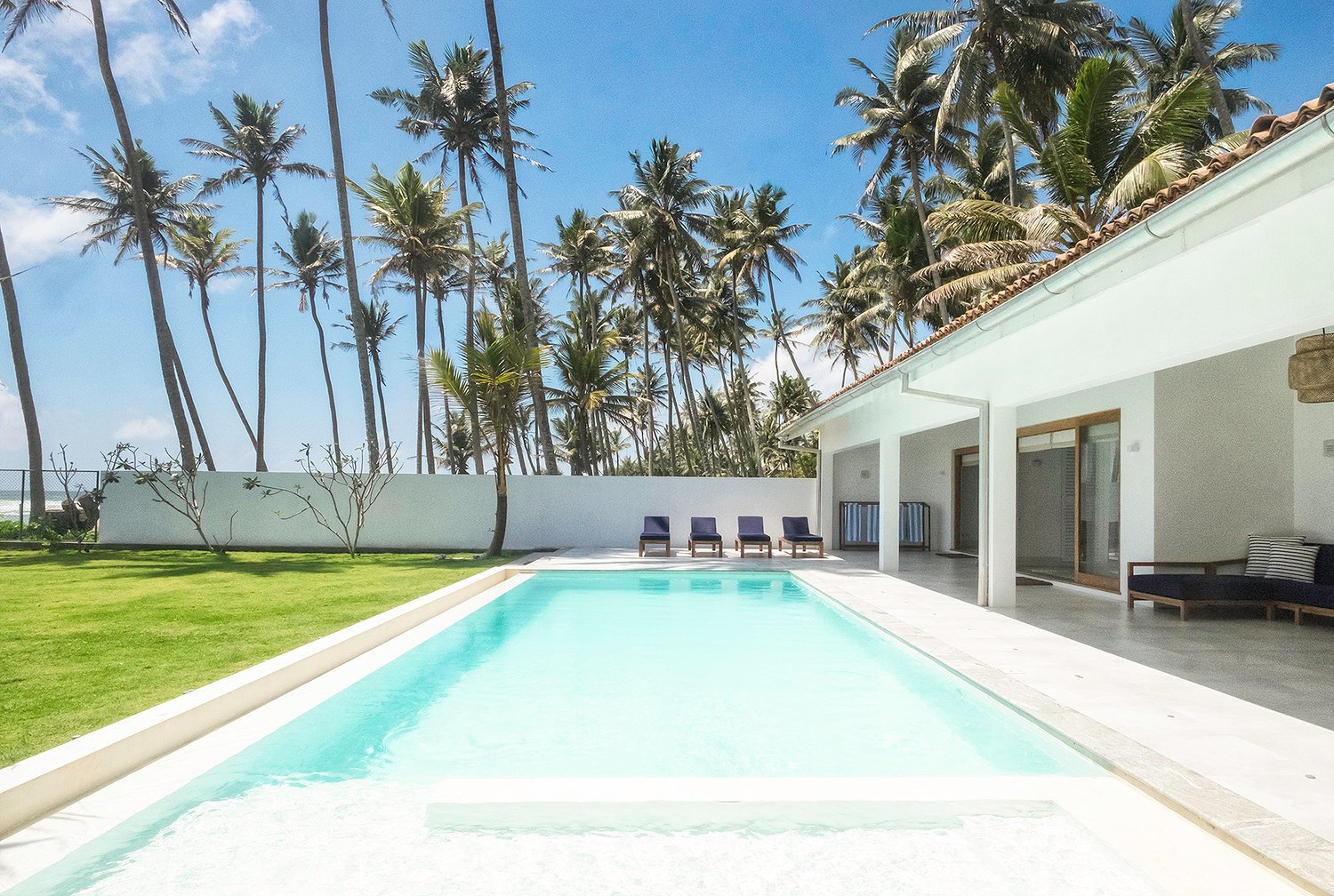 Today will start with a beautiful heartfelt yoga practice lead by Katie Thomson from Wild Yoga.
After we enjoy our first of three breakfasts prepared by TJ, we will head off to Galle, home to an impressive World Heritage-listed Dutch fort with extensive walls and many interesting old buildings. Enjoy a stroll around the historic fort and lose yourself in stunning vernacular Dutch architecture, juxtaposed with later British buildings, creating a cultural fusion of construction.
Once again today starts with a beautiful heartfelt yoga practice lead by Katie Thomson from Wild Yoga. This morning we will spend at leisure enjoying our luxury accommodation, taking a stroll down the beach, or whatever else takes your fancy.
This afternoon we will head to the lovely beaches of Mirissa and Weligama to check out the local beach vibe. Today would be a wonderful day to book yourself an ayurvedic massage!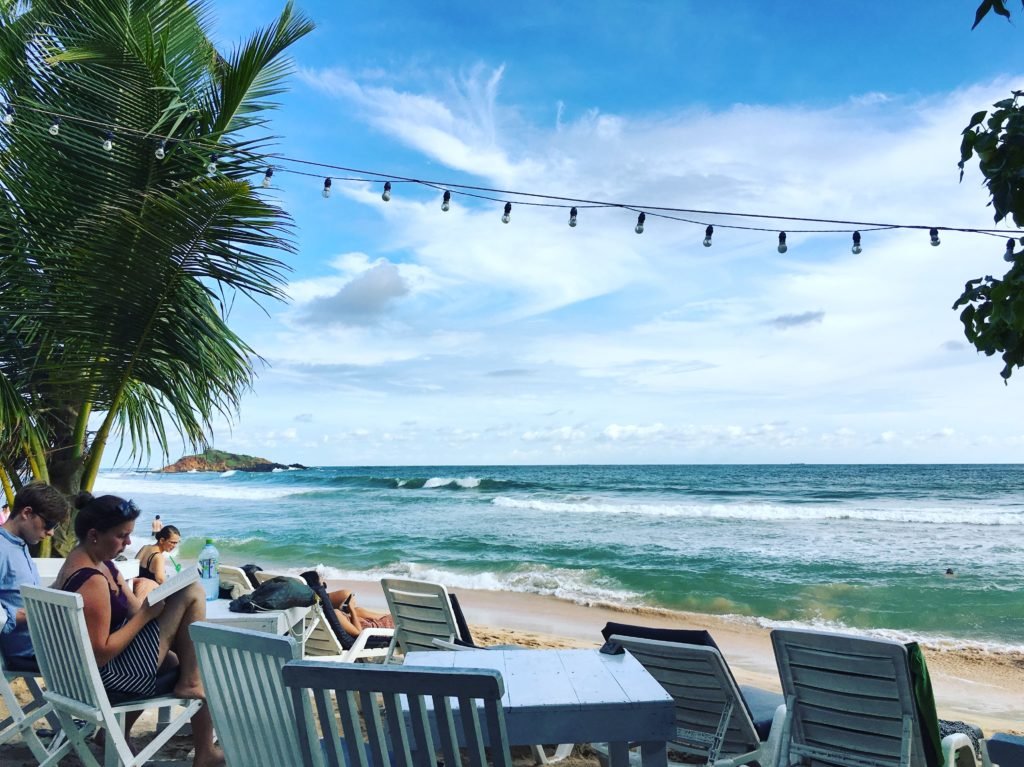 Sadly we leave Tea Tree Villa today but don't despair more adventures await!
This morning we travel to Beruwala to visit the Brief Garden of Bevis Bawa. The Brief Garden is the masterpiece of Bevis Bawa, brother of the famous Sri Lankan architect, Geoffrey Bawa. Bevis created the garden over decades, transforming the rubber plantation he had inherited into the verdant jungle-esque gem it is today. Tangles of vines flow over walls of buildings, narrow pathways wind through swathes of tropical planting to reveal a pool, patio, and staircase. Archways cloaked in lushness lead to hidden statues tucked into the rich vegetation. The house, too, is worth a peek. The art within and the garden, reflect Bevis' flamboyant personality and lavish lifestyle.
Lunch will be served at Geoffrey Bawa's property, Lunuganga prior to our guided tour. Geoffrey Bawa's impact on Sri Lanka is unparalleled. Lunuganga is arguably the most famous of his works, a country home set in a sprawling lakeside garden estate. Roughly 15 acres, the estate features an idyllic cottage and accommodation. Lunuganga is one of the few places that somehow seems more entrancing as it is worn away by time, with its chipped stone statues and gnarly trees adding to its perfect imperfection.
Tonight we will enjoy the sun setting over the Indian Ocean from the rooftop infinity pool of our Colombo accommodation.
Accomodation:
Marino Sands, Colombo.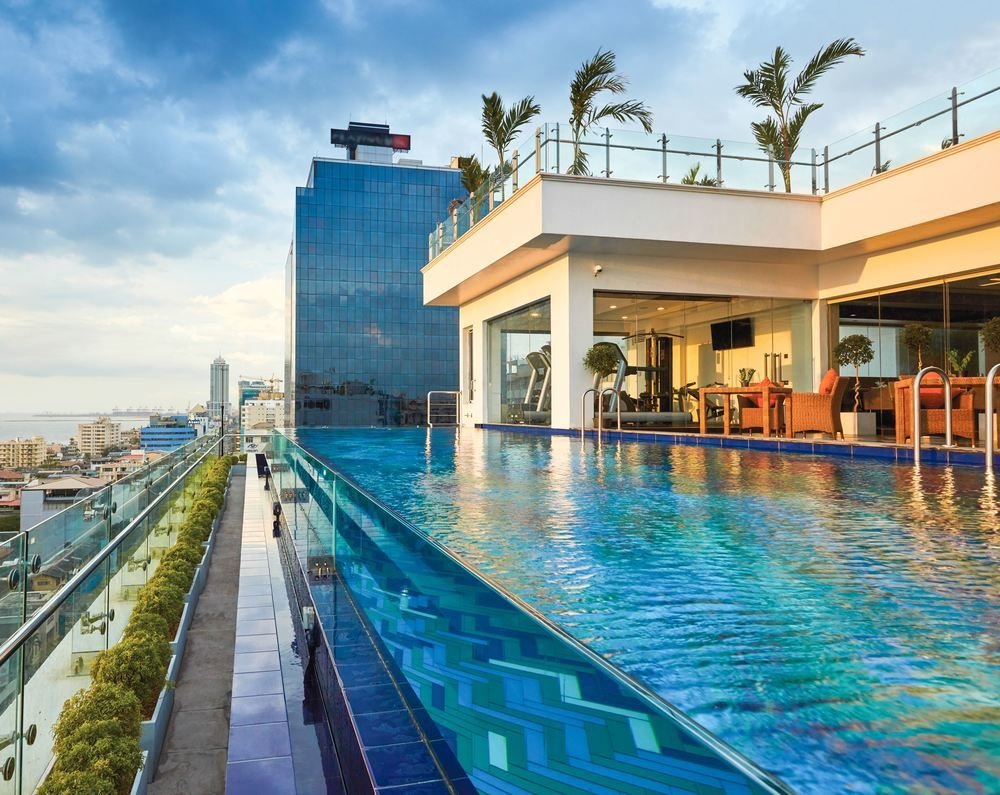 Good morning Colombo. We will start our day with a walking tour in Colombo's Fort District in the morning, exploring the old buildings built by the British and the Dutch. Having been ruled by the Portuguese, the Dutch and the British, it isn't a surprise that Colombo is a treasure trove of grand old colonial architecture, many still in use as government buildings today.
A visit to Geoffrey Bawa's Number 11 house in the afternoon. Number 11 is an iconic, heritage property where Sri Lanka's architectural guru, the late Geoffrey Bawa, lived. It incorporates Bawa's signature architectural features of courtyards and verandahs. The house itself is a lovely, sleepy Colombo residence, with plenty of natural light, clean lines, white cemented floors and statement pieces. You'll find a collection of antiques, local art, and ancient maps you could spend hours poring over.
We will head off to the airport after our last Sri Lankan dinner, for our journey home. You will be leaving this remarkable country with many interesting stories, newly formed friendships, and memories of your adventures that you will cherish forever!
The Team
This particular tour has been carefully crafted from landscape architect extraordinaire Johanna MacMinn from My Verandah, and Sri Lankan tour guide Indika Prasad Kumara. Together, we have teamed up to co-created this wonderful adventure, to give you a taste of the best of Sri Lanka's offerings.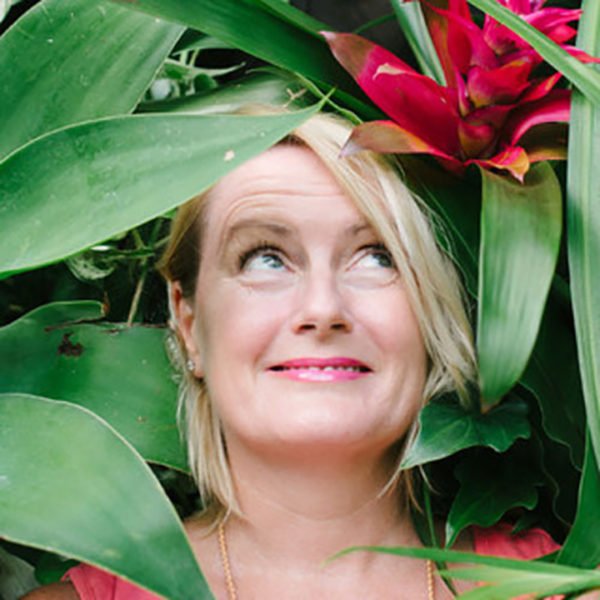 Johanna MacMinn
Landscape architect and garden writer with 19 years experience specialising in sub-tropical gardens. She has spent 7 years working in the travel industry; and as a lifelong traveller she is armed with a passion for gardens, travel, food and adventure. It is her absolute pleasure to take you on a journey of the senses, showing you the beauty and richness of Sri Lanka.
Indika Prasad Kumara
A local Sri Lankan guide with an undeniable knowledge and passion for his country. Indika's innate skills matched with his Buddhist wisdom, ensure that his tours are informative and flow seamlessly. It would be his pleasure to show you his Sri Lanka, a guaranteed authentic and thoughtful tour, through the eyes of one lucky enough to call this beautiful country home!